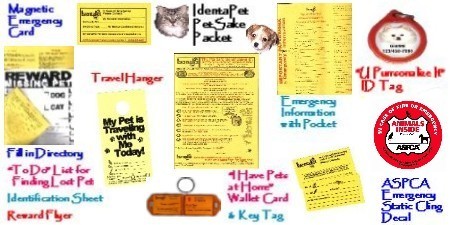 Our Preparedness Packet Includes:


1.



ID Tag

A GRReat start to your IdentaPet protection for YOUR pet!

I call these my "FUNCTIONAL" tags, because they serve both a "FUNCTIONAL" purpose as well as being a "FUN" tag for the "do-it-yourself" caregiver!

They are a simple, effective and efficient way to place identification on your dog or cat. Tag measures 1 1/4" in diameter. Plastic cover resists normal elements, assuring that your pet's information stays safe.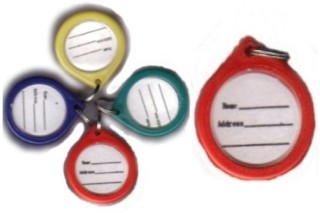 Click on Image for a larger view.

Why I like this tag is because your information can be changed as many times as necessary. When going on vacation, kenneling, having a temporary caregiver, moving, or a change of phone number. Simply fill in a new piece of paper (for added durability use a waterproof pen), insert in tag, and voila' -- instant updating for your pet's security! An idea that fits in purrfectly with IdentaPet's mission of preparing for your pet's well-being at all times.

During emergencies such as hurricanes, earthquakes, etc. the information can be updated to include an "out of area" contact's phone and/or cell number. Should you and your pet become separated, and if "pockets" of local phone lines are down for any period of time, this may be the only way to notify someone should your pet be located.

If your pet already has ID, this can be your "just in case" tag for any and all of the reasons mentioned above!


These tags also make great PHOTO ID Tags, so you have a choice. Simply fill in the information or be as creative as you dare!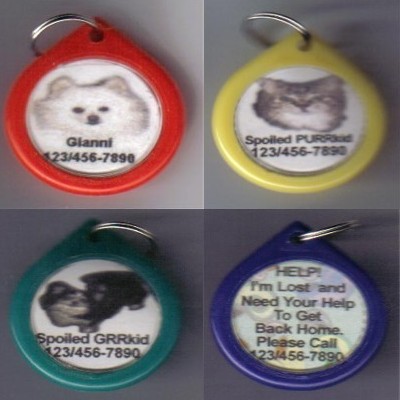 Click on Image for a larger view of "do it yourself" tag designs.

Tag designs are only limited by your imagination! My spoiled furkids even have their own holiday design tags. When making your own insert, simply remove the clear plastic cover and use as a template.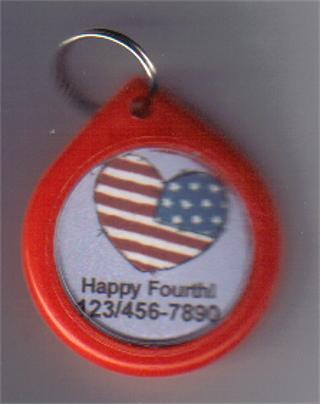 Click on Image for a larger view.

And if you worry about sending away for tags and giving "third parties" access to your private phone number, these tags are an added security measure at a time when personal information is being raided at an alarming rate.

Tags are available in four vibrant colors of OUR choosing . . .
red, green, yellow and blue. All are attractive and your pet will look purrfectly grreat wearing any one of them -- but more importantly, should they get lost, they have a better chance of being returned because you cared enough to protect them with identification.

Tags come with easy attachment ring for your pet's collar.
INSTANT PET ID for INSTANT PET PROTECTION!


2. LIFETIME PROPONATE KEY TAG and
3. WALLET SIZE EMERGENCY CONTACT CARD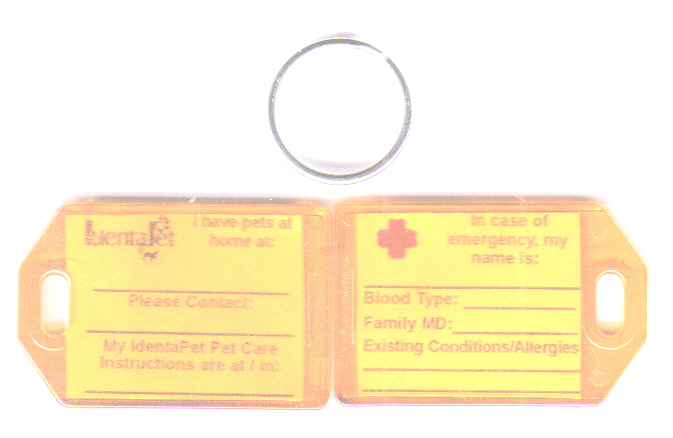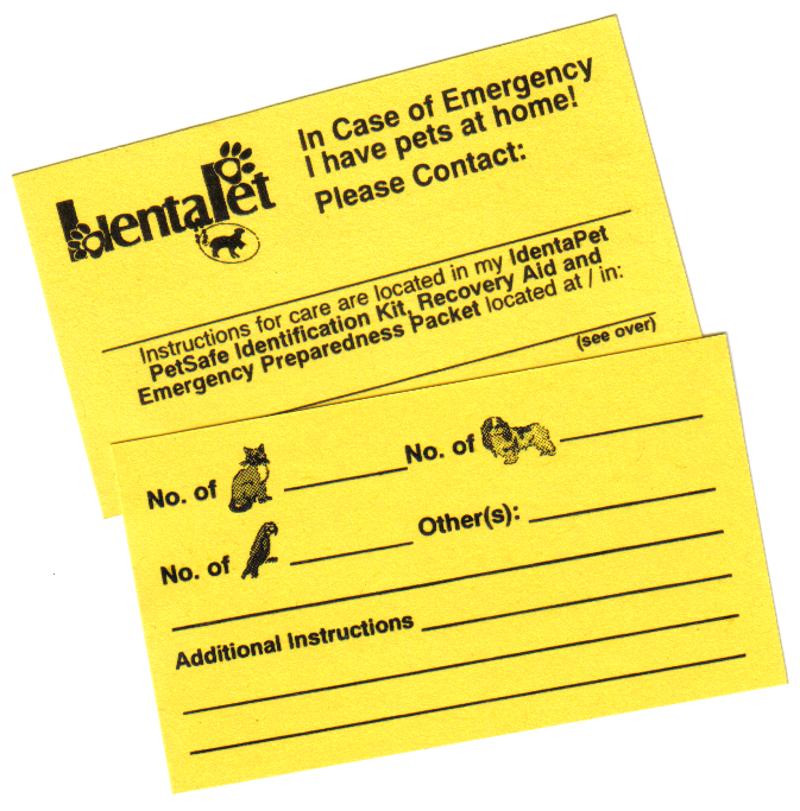 In an accident or emergency,
your DRIVER'S LICENSE INFORMATION
is NOT ENOUGH to protect you . . . or your pet!
If you are unable to speak our
KEY TAG (with large heavy key ring) and WALLET CARD
alert personnel that you have pets at home!
They also relay your Emergency Contact's Phone Number,
where your IdentaPet pet care information
is located, and other instructions of YOUR CHOICE
so your furkids can be taken care of properly
until your safe return to them. As with our Pet Tag,
I wanted only the BEST for my IdentaPet caregivers!
Our key tags are NOT acrylic!
They are amber colored propanate!
They measure 2" x 1 3/8". Large enough to be read
by those who need to read them --
discreet enough to be ignored by those who do not!
They WILL NOT crack, split or break
(under normal use conditions).
They are LIFETIME tags for a LIFETIME commitment
of caring for your pet!


A VERY IMPORTANT NOTE!
In addition to helping your pets,
our "Emergency Information"
also relays YOUR Name and Address,
YOUR Blood Type, YOUR Family Doctor,
and YOUR Medical Conditions and Allergies,
saving valuable time in contacting those
who care about YOU when YOU might need them MOST!


4. CAR TRAVEL HANGER
"My Pet is Traveling with Me Today!"
If you ever take your pet in a vehicle,
this is an ABSOLUTE MUST!
It could very well save
their life in an accident!
In addition to a full pet description
should your furkid escape,
if your pet needs assistance
or temporary care
and you are hurt and unable to speak,
it also has YOUR emergency contact's phone number
as well as where your IdentaPet instructions are located.
It protects your traveling buddy
from an uncertain fate
until you can care for them once again!
It's also GRReat for Laminating
(If laminating, we recommend using a washable pen
for marking which pets are accompanying you on the trip!)
For use ONLY when pet is on board.


Great for trips to the vet, vacation time
and travel time with your four-legged furkid!
Simply hang on pet's travel crate or carrier handle
or place on car visor!


5. EMERGENCY MAGNETIC CARD!
Lists YOUR important phone numbers
as well as the number for the
ASPCA Poison Control Center.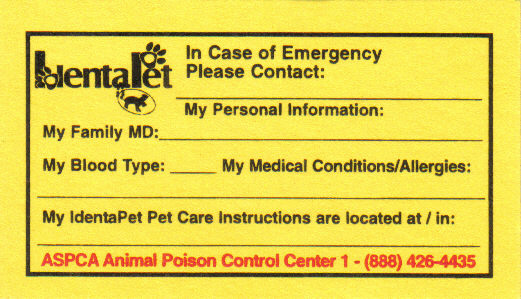 It also states where YOUR IdentaPet
Pet Care instructions are located.
As with our Key Tag, this emergency information
also includes YOU as well -- YOUR blood type,
YOUR family doctor and YOUR medical conditions
and allergies! We have BOTH YOU and
YOUR pet covered!
This is a VISIBLE, READILY AVAILABLE
life-saving aid for any emergency.
Simply fill in the necessary information
on the card, peel off the front of the
magnetic backing, and place the card
on the sticky magnet front. That's it!
We recommend placement on the inside
of a steel front door, refrigerator,
stove or automobile! Should you
or your pet need assistance,
arriving help will IMMEDIATELY
know who to inform of your situation!

6. YOUR PET CARE INSTRUCTIONS


and EMERGENCY CONTACTS
specifically for YOUR pet.
We ask you questions that will allow anyone
to know how to provide for your furkid
in an EMERGENCY or while you are on VACATION!
VETERINARY RECORDS, MEDICAL INFORMATION,
and most importantly, PERSONAL INSIGHTS.
With IdentaPet, your temporary caregiver
will have SPECIFIC INFORMATION for YOUR pet
such as where their food is located,
words to calm your pet,
and even your wishes should your pet be hurt
and you can't be there to speak for them!
The questions we ask will make it easy on
your furbuddy at a very hard time --
a time you can't be there with them.


7. FILL-IN DIRECTORY
with listing of all parties to contact with phone numbers.
A STEP BY STEP guide of who to call, what to say,
and what to do should your pet be lost or stolen.

8. "TO DO" LIST


for finding lost pets.
All the how's, why's, where's and what's
of locating a missing pet in an EFFECTIVE
time-saving, well thought out plan of action.


9. IDENTIFICATION SHEET
much like those for our CHILDREN
to record all necessary information
to accurately describe your pet
should they be lost or stolen.
No more scrambling for bits of information
scattered throughout the house.
We've remembered EVERYTHING -
down to rabies tag numbers,
tatoo and microchipping information,
as well as DETAILED information that will allow
even total strangers to recognize your pet.

10. "REWARD" FLYER


for copies and distribution.
We have included items most people understandably
can't think of when tragedy happens. We've taken the
guesswork out of what to say and have even provided a
PROFESSIONALLY DESIGNED FLYER to say it on!
Simply fill in the blanks, place your pet's photo
in the space provided, make copies and distribute!


11. POCKET
for storing photo and
other IMPORTANT paperwork.

A BRIGHT

Idea . . .
from one of our SATISFIED PURRRchasers . . .
Use our re-sealable see-thru plastic mailing envelope
to protect and store your IdentaPet packet!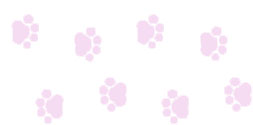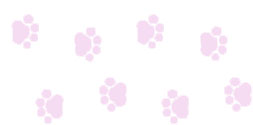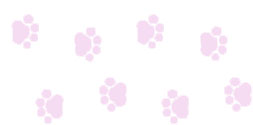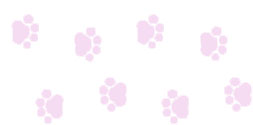 ALERT

ALERT

ALERT

** Bonus Gift **
ASPCA Emergency Static Cling Window Decal!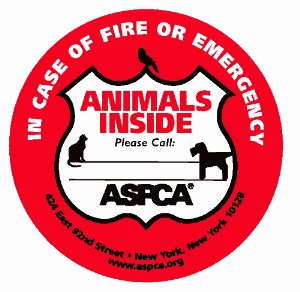 This visible aid alerts emergency personnel in your community that you have pets should the unexpected happen when you are away from home or are unable to speak for them.

What a PURRfectly GRReat way to complete your pet's IdentaPet protection!

These non adhesive stickers can be placed on any window. They work by static cling so they can be easily removed and positioned in a new location. Stickers boldly announce "Animals Inside". Simply fill in your contact information and you can rest easy knowing that your pets will be well taken care of during an emergency.
These stickers measure 3 1/2 inches round.

PLUS . . .
Information on what to include in a
PET READY Disaster/Emergency Pack!