Time is Precious and so are Our Pets.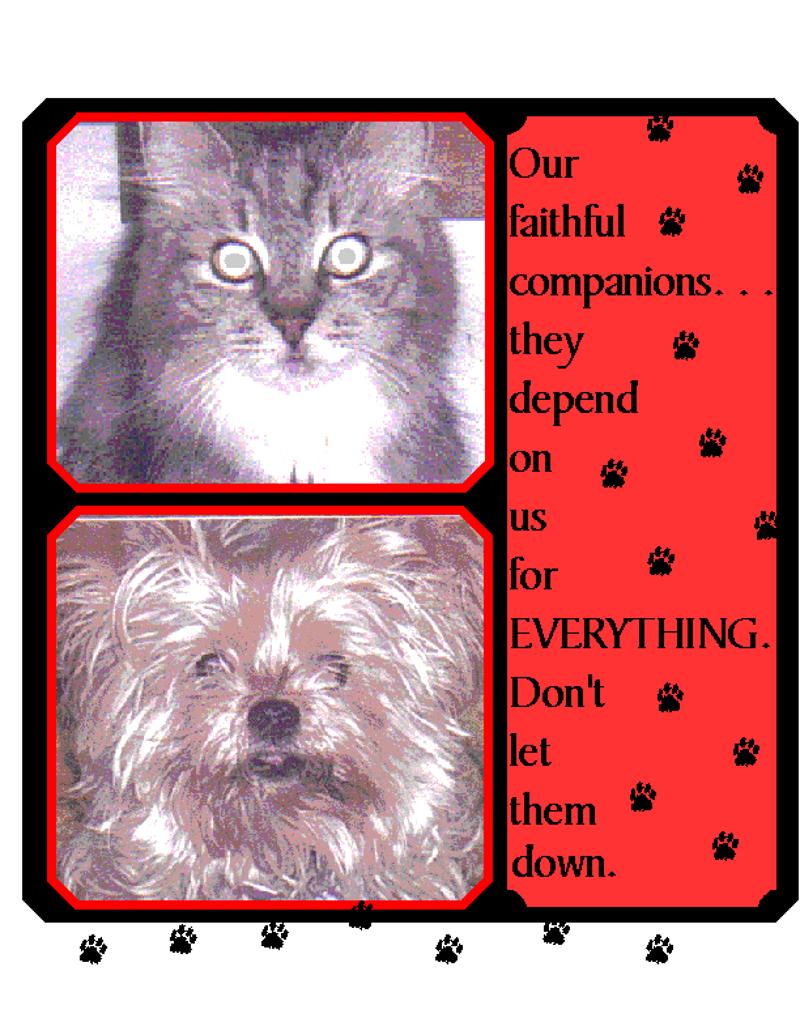 When every minute counts, count on IdentaPet . . .



(What TIME is it? Click on Logo!)

. . . peace of mind for the piece of your heart
only your pet can fill!




Here's How IdentaPet Works!

Your pet is MISSING!!! What Should You Do???
Follow IdentaPet's "Lost Pet" Tips and Strategies
along with notifying EVERY agency and person
outlined in our completed Phone Directory.
Next, fill-in the blanks on our REWARD flyer
by referring to your completed ID Sheet
for a thorough and accurate description!



You are in an ACCIDENT,
and are unable to communicate,
and you have pets at home.
What Should You Do???
You DON'T worry --
IdentaPet's Wallet Card and Key Tag
tell emergency personnel all they need
to know about BOTH YOU and YOUR Pet's
needs and care! In addition to YOUR PET's
care information our "Emergency Information"
also relays YOUR Name and Address,
YOUR Blood Type, YOUR Family Doctor,
and YOUR Medical Conditions and Allergies,
as well! Both you and your pet are covered!



There is an EMERGENCY at your home --
either you or your pet needs assistance.
What Should You Do?
You can breath easy.
Our Magnetic Emergency Card alerts
arriving help of who to call and what to do
for BOTH YOU and YOUR PET!
Like our Key Tag, this card
relays YOUR Name and Address,
YOUR Blood Type, YOUR Family Doctor,
and YOUR Medical Conditions and Allergies,
in addition to YOUR PET's care information,
as well as the phone number for the
ASPCA Poison Control Center!



There is an EMERGENCY at your home --
YOU AREN'T THERE and
your pet needs assistance.
What Should You Do???
You can be grateful that you
cared to prepare for all emergencies!
Our ASPCA Emergency Static Cling Window Decal
alerts arriving personnel and community responders
that you have pets inside!
At a time when every second counts,
you have insured the fastest response possible
to save your pets and keep them safe!



You go on VACATION,
or suffer from an INJURY or ILLNESS
and suddenly you are unable
to care for your pet.
What Should You Do???
No more scrambling for last minute instructions
for Kennel Employees, Petsitters or Family Members.
Simply hand them your IdentaPet PetSafe Kit -- it says it all!



You are in an accident and
your pet is traveling with you.
What Should You Do???
Never fear - IdentaPet's Car Travel Hanger will alert
emergency personnel to take the appropriate steps.
For use ONLY when pet is on board.


Great for trips to the vet, vacation time and
travel time with your four-legged furkid!
Simply hang on pet's travel crate or carrier handle
or place on car visor!



Unexpectedly, without notice,
SOMEONE ELSE must care for your pet.
What Should You Do???
(You're covered! Your completed IdentaPet
Emergency Preparedness Packet
has all the information necessary
to care for your pet at a minute's notice!)



TIME is NOT on YOUR side in an EMERGENCY!
But IdentaPet IS!




CAREGIVER EMERGENCIES!



We all have family, friends or spouses that we hope
can be there for our pets should we be unable to.
But what if the unthinkable happens,
and the person you rely on is unable
to be there for your furkid?
Who would know how to PROPERLY care for
YOUR pet the EXACT SAME WAY YOU DO?

IdentaPet does!

VETERINARY RECORDS, MEDICAL INFORMATION,
and most importantly, PERSONAL INSIGHTS.
With IdentaPet, your temporary caregiver will have
SPECIFIC INFORMATION for YOUR PET.
IMPORTANT informaton such as
where your pet's food is located, words to calm your furkid,
and even your wishes should your pet be hurt and
you can't be there to speak for them! The questions
we ask will make it easy on your pet at a very hard time --
a time you can't be there with them.

PURRfect in BOTH Emergency
and NON-Emergency Situations!
From Veterinarians, EMTs, Petsitters, Kennel Workers, Family
Members & Pet Lovers alike, IdentaPet gets a big "Paws Up"!
WHY???
Because IdentaPet is 100% RELIABLE - 100% of the TIME!
"PAWSitively"!




LOST PET EMERGENCIES!


When Lassie and Sassie DON'T come home!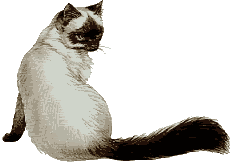 Did you know that . . .
ID TAGS, TATTOOS and MICROCHIPPING
ARE NOT ENOUGH TO PROTECT YOUR PET?
The American Humane Association
reports that approximately 15 million dogs and
9 million cats enter US shelters each year as strays!
Even more shocking, these numbers do NOT reflect
those pets who never reach the shelter doors.
Combined, the number of strays is staggering.

Tragically, the odds are NOT on our furkid's side.
Many well cared for pets (one in three!)
will find themselves lost at least ONCE in their lifetime!
Sadly, without ID, 90% of these pets
will not be returned to their owners.
And although we firmly believe we would know what to do
should the unthinkable happen and our pet
is lost or stolen -- just think of the relief
you will feel when in this most stressful of times,
EVERYTHING you need is RIGHT AT YOUR FINGERTIPS!

It's the BEST thing that could happen to just
$14.00 and .95 cents! :-)

Without a doubt, ID tags, pet licenses, tattoos
and microchips are IMPORTANT, especially when
used in conjunction with one another. That is why
IdentaPet includes our "U PURRsonalize It" ID TAG
as part of our TOTAL PROTECTION PACKAGE!
It's s GRReat way to begin your IdentaPet protection for YOUR pet!
But in REALITY, these aids only work if your pet is lucky enough
to be found and taken to the proper authorities.
However, statistics show that a majority of lost pets are NOT recovered by
local animal shelters, veterinarians or other humane organizations,
but by their owners or people who live in and around their neighborhood!


Therefore, YOUR pet's BEST chance for
RECOVERY depends ALMOST ENTIRELY on YOU
and how prepared YOU are to FIND THEM!
With IdentaPet you are FULLY prepared,
because you DON'T want YOUR pet to be just another statistic!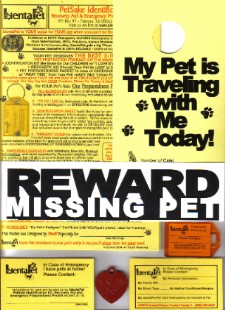 IdentaPet. . . ALL the information necessary
when caring for your four-legged friend!


IdentaPet gets my tail waggin' "Paw of Approval"!